Just because you're getting older it doesn't mean you can no-longer be fashionable. Age-net offers some fashion advice to the over 50's
As you age, you are going to have to make a few new fashion choices. Here are a few general fashion tips for older individuals, so that you can stay stylish and comfortable simultaneously.
Fashion Choices for a New Life
Retiring does not mean that you no longer care about your looks. However, once your focus redirects from working in professional environments to staying at home, you will not have as great a need for elegant and fancy dresses and suits every single day. There are plenty of other fashions that are more appropriate as well as comfortable for everyday scenarios, whether you will be staying within your house or be running errands outdoors.
While you are going out with friends, feel free to wear something slightly dressier to come off as sophisticated. Take advantage of the fact that you no longer have to conform to a certain dress code for work, and have fun learning how to express yourself in news.
Never be afraid to experiment. Most importantly, fashion should be about making you look the way you feel. It should be a visible representation of your personality and an extension of who you are. Rather than worrying about how others are going to judge your clothing, try going for looks that you enjoy and make you feel best.
As you experiment, you will slowly be able to develop your own individual style that you can stick with. If you are not comfortable with simply experimenting, or if you want advice on how you can start out, read on for some general fashion tips that can guide you along your way.
Fashion Tips to Consider
Here are a few fashion tips that can easily apply to several older individuals, regardless of their individual styles. Remember that these are only guidelines, so choose and decide which ones help you the most.
Build a Basic Wardrobe
You want to have a basic wardrobe filled with pieces that match your own taste and style. What matters the most here is that these clothes are ones you are comfortable and happy in. Pay attention to the way you look as well as the way you feel. Even if you look glamorous, chances are if the clothing is extremely uncomfortable in everyday scenarios, your expression will give it away. As many experts have pointed out, you can only look as good as you feel.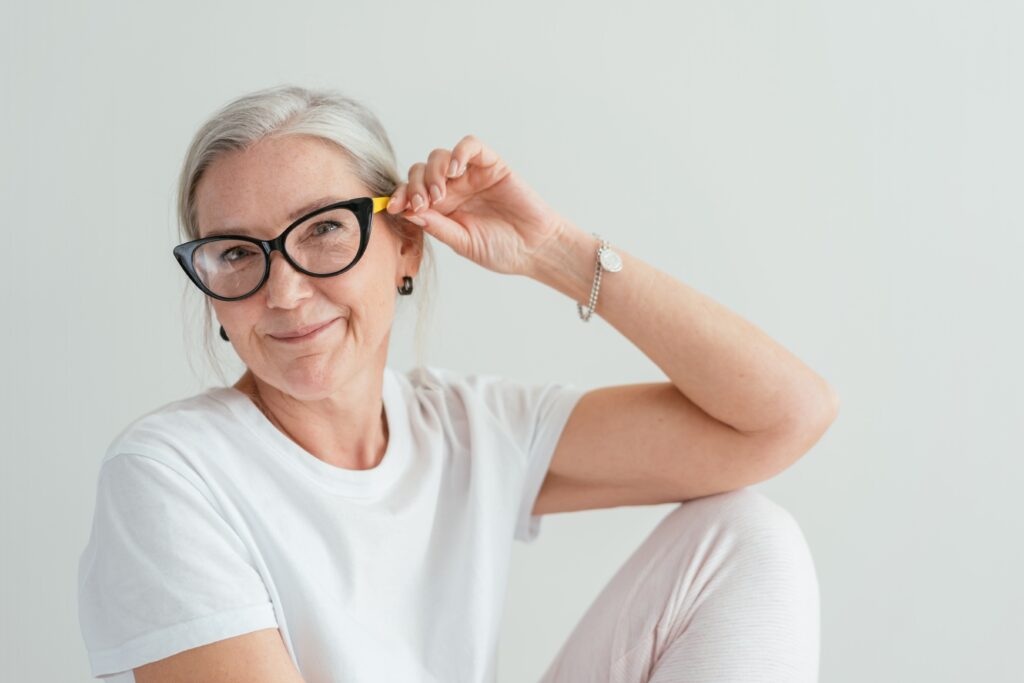 Add Trendy Pieces
Always relying on your basic wardrobe can leave you looking dull and out of style. Make sure that you continue to breathe life into the wardrobe that you already have by adding a few pieces that are trending every once in a while. This way, you do not have to waste money, time, and effort in replacing you entire wardrobe every so often. Instead, by adding a few new pieces, you will be able to develop new looks with a little bit of creativity and imagination along the way.
What is important here is that you do not buy pieces from every single trend. Focus on the trends that are suitable for you. What might look great on one person could look disastrous on another. Look at yourself, and pinpoint your best features. Then, think about whether or not these trends will highlight your features or your flaws.
Try to draw attention to your best features, and you will find yourself looking much better than before.
Have Different Styles
You should always have different styles for a variety of occasions. Do not discard a gown or tuxedo, simply because you do not think you will ever need it again. You do not want a special occasion to sneak up on you. Make sure you have something for several different formal occasions that you may attend in the future, and save the clothing that you do have. Otherwise, it can be a complete hassle as you scramble to find appropriate clothing for an event that you only found out about today.
Dress Your Age
People always look better if they dress classier. Do not try to dress too young with overly short skirts and tight tops. Instead, if you wear age-appropriate clothing, you will feel much more confident as well as be able to highlight your best features.
It will also give you a much more mature look, which will speak volumes for your personality. If you are selecting dresses or skirts, try to find those that will reach your knee or below. This will help you have a more sophisticated look rather than a tacky one.
Similarly, you do not have to let your age decide how you dress. Several clothes are appropriate for all ages. Choose and decide which clothes are the best for you. Think about how comfortable they are and what they bring out in you.
Prints
Do not be afraid of wearing something fun and exciting. For example, you can try wearing different prints that you like.
Accessorize
Many people make the mistake of only focusing on clothing and forgetting about accessories. The truth is, even if you only have a limited wardrobe to work with, changing the accessories up can really make each and every look unique. When you are buying accessories, focus on your best features again. For example, if you have beautiful eye colour, you want to find earrings or necklaces that can help you bring out that colour.
However, if you have thicker fingers, it may not be in your best interest to get bold and huge statement rings.
In many ways, fashion is all about capitalizing on your best features and keeping the attention of others on them. Make sure that you do not over-accessorize either. When it comes to accessories, less is always better than more.
Just as how a Christmas tree looks terrible with too many embellishments, having too many accessories on you will be distracting, confusing, and chaotic. Rather than trying to highlight all of your positive features at once, focus on a few and keep balance in mind.